China'Watch'Canada
Keeping an eye on Communist, Totalitarian China, and its influence both globally, and we as Canadians. I have come to the opinion that we are rarely privy to truth regarding the real goal, the agenda of Red China, and it's implications for Canada [and North America as a whole]. No more can we rely on our media as more and more information on China is actively being swept under the carpet - not for consumption.
Saturday, June 24, 2017
Human trafficking gang charged

20,000 euros per person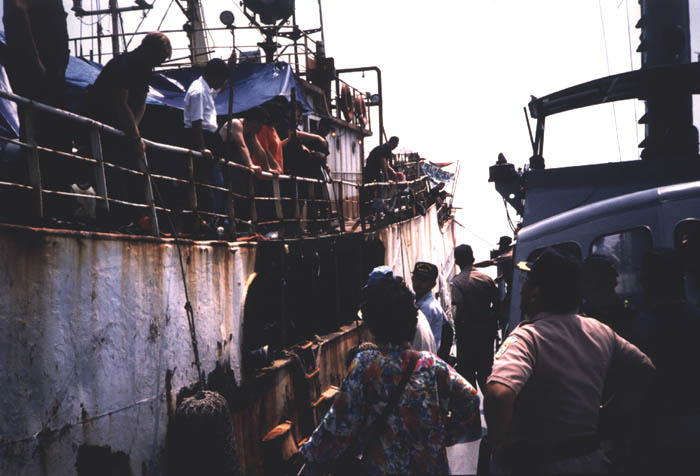 A Chinese mafia-style gang charged desperate immigrants 20,000 euros each to be smuggled into the UK, Ireland, Canada and America.
Police said their victims were mainly captured in China and members of their families were threatened unless the money was paid, half of it upfront, the other half on arrival.
Spain was used as a stopping-off point between countries and special flats were set up to hide the "human contraband" whilst their forged passports and documents were prepared. These would either arrive by personal courier or were hidden in suitcases of Chinese posing as holiday-makers.
Sometimes, the gang would use authentic paperwork if the pictures and age resembled those of the immigrant.
So far, 89 people have been arrested but investigations into the a criminal network dedicated to the trafficking of human beings remains open.
The gang was made up of Chinese and Pakistanis and had links with other mafia organisations in various parts of the world.
Police said the journey was usually by sea to get to Spain first where a network of safe houses was used.
From here, the gang used trains, goods lorries and ferries to get to the UK and Ireland, bypassing airports because of the checks which had been stepped up into human trafficking.
"The most dangerous part of the journey was between Turkey and Greece," said a police spokesman.
Raids were carried out in various parts of Spain and money seized of nine denominations, together with 116 false passports and 71 telephone SIM cards.
Friday, June 23, 2017
Globe editorial: Why are the Liberals

doing Beijing's bidding?
The Liberal government of Justin Trudeau has an odd take on China: Where other governments are wary of Chinese companies trying to take over their domestic technology firms, ours is happy to facilitate a quick and easy sale.
The latest example is Norsat, a British Columbia satellite communications firm whose customers include the U.S. Department of Defence, the U.S. Marine Corps, the U.S. Army, NATO, Ireland's Department of Defence, the Taiwanese army and NAV Canada, the agency that oversees civil aviation in this country.
Ottawa has approved the sale of Norsat to a Chinese radio-systems manufacturer called Hytera, and it has done so without carrying out an in-depth review of the potential security risks.
This has shocked seasoned national-security experts in Canada, including two former directors of Canada's spy agency (CSIS) and Canada's former ambassador to China. All three have said the security review that Ottawa carried out was inadequate and that the sale could put Canada and its allies at risk.
The United States, understandably, is very upset about the possibility that a Chinese company, one of whose minority owners includes the Chinese government, could become the owner of the proprietary satellite communications technology used by branches of the American military and NATO.
A congressional commission on Monday urged the Pentagon and other American customers of Norsat to review their relationship with the company – something that would strike any observer as the right thing to do.
But Ottawa remains blithe. A spokesman for Innovation Minister Navdeep Bains insists that a routine screening of Hytera revealed "no outstanding national-security concerns."
This stands is sharp contrast to Britain, which imposed strict conditions this year on the sale to Hytera of a U.K. company that makes radio systems for police, fire and ambulance departments, following an in-depth national-security review.
It also is starkly opposed to the way the Conservative government of Stephen Harper viewed the sale of Canadian technology firms to China.
In 2015, the Harper government blocked the sale of a Montreal company, ITF Technologies, which makes "fibre-laser" products that can be used for military purposes, to a Hong Kong company. ITF once did a research project with CSIS and, in a previous incarnation, sold equipment to the Canadian Armed Forces.
The Conservatives believed that allowing the sale to a Hong Kong firm that is partly owned by the Chinese government would undermine the national security of Canada and its allies by allowing China "to domestically produce advanced military laser technology to Western standards sooner than would otherwise be the case."
But almost as soon as it took power in November 2015, the Trudeau government launched a "fresh review" of the transaction. In March of this year, Ottawa approved the deal, with conditions, based on its own national-security assessment. It has not disclosed what the assessment involved, or what the conditions are.
It was also the Trudeau government that, in February, approved the sale of a B.C. retirement-home chain to a Chinese insurance company whose owners have links to Beijing.
All of these decisions have to be placed in the context of China's aggressive policy of insisting that national-security reviews are a form of protectionism designed to prevent Chinese companies from expanding overseas.
As well, the Liberal Party has, in the past, held exclusive fundraisers at which Mr. Trudeau met with wealthy and influential Chinese-Canadians, a questionable practice exposed by The Globe and Mail. Some of the hosts and guest had ties to China's communist government. At at least one of the fundraisers, Mr. Trudeau was lobbied to make it easier for Chinese investors to come to Canada.
The sale of Norsat to Hytera is currently on hold while Norsat considers a last-minute rival bid from a U.S. hedge fund – a bid that Hytera is likely to match, thanks to funds provided by the Chinese state, according to one business source in the U.S.
It's all very murky. Beijing wants Canada to drop full-fledged national-security reviews of Chinese takeovers, and Ottawa has now done that twice, each time for the sale of firms that sell sensitive technology. In both cases, the government appears to have put China's interests ahead of those of its allies, the U.S. included. Its decisions have been unilateral and secretive, and have run counter to the recommendations of national-security experts.
What exactly is going on here? The Trudeau government has never explained its thinking. It just keeps approving and approving, while Canada's closest allies grow more nervous. Ottawa should not allow the sale of Norsat until it can tell Canadians, and the rest of the world, that it has done a thorough and credible national-security review.
Think tank leads corporate-funded campaign

to sway Canadians on Chinese trade

OTTAWA — The Globe and Mail

Wednesday, Jun. 21, 2017 5:00AM EDT
An Ottawa-based think tank, with ties to corporate Canada and the federal government, is spearheading a campaign to persuade Canadians to embrace a free-trade deal with China.

As Canada's negotiators ready for a third round of exploratory trade talks with China, the Public Policy Forum (PPF) is embarking on a two-year effort, bankrolled by major corporations, to change Canadians' minds about bilateral trade with the world's second-biggest economy.

Public-opinion surveys, conducted in April by Nanos Research for The Globe and Mail, found nearly nine in 10 Canadians are "uncomfortable" with the idea of China's large, government-controlled businesses gaining more access to Canada's economy – an almost inevitable aspect of any free-trade deal. The poll also found that 66 per cent of respondents want Ottawa to link human rights to trade talks.

The first quarterly meeting of the PPF'S Consultative Forum on China takes place in Ottawa on Wednesday and includes executives doing business with China, leading pro-free-trade advocates from academia as well as the head of the Canada China Business Council. Ian Shugart, deputy minister of Foreign Affairs, will address the gathering. Two high-ranking federal civil servants sit on the board of the PPF, an organization that advocates policies to promote good governance.

The conference is closed to the media. Edward Greenspon, a former editor-in-chief of The Globe, was in a "flurry of meetings" and unable to comment, according to spokesman Carl Neustaedter.

"The discussion might be a bit different if there were media in the room, but that doesn't mean at some point there wouldn't be," Mr. Neustaedter said. "But I think the group will probably talk about how will its findings and discussions be communicated."

Even before it opened exploratory talks on a free-trade deal with Beijing, the Trudeau government had expressed concern in briefing notes, prepared by the department of Global Affairs last year, that Canadians are "ill-informed and negatively biased" in their understanding of China.

The PPF, which recently completed a federally commissioned report on the state of the media, laid out its plans for China in a background paper about the need to "write a more sophisticated narrative for Canadians" to catch up with Australia and New Zealand, which have signed free-trade agreements with Beijing.

"They have forged ahead with free-trade agreements and secured competitive advantages for their economies, universities and workers. Now, Canada is looking at following their path," the PPF paper said.

"As part of any effort the Canadian government must gain a firm grip on Canadian views toward China. Any [free-trade] agreement with China will require a broad social and political consensus built on a solid foundation of support from different quarters."

Mr. Neustaedter said the forum wasn't trying to shape public opinion in favour of free trade with Beijing, but rather was seeking ways to engage with China on areas as diverse as the training of judges and the environment.

"I wouldn't characterize it as everybody is for pro-free trade," he said. "It is really about a wide engagement, a more nuanced engagement [rather than] simply pro or con, or human rights versus trade kind of thing."

All of the people on Wednesday's speakers' list are known to be supporters of greater economic ties with China.

But Conservative MP Tony Clement said Canadians should be skeptical of the PPF's efforts on behalf of Canada's business establishment and the federal government.

"This organization is corporate Canada plus the Liberal Party in another guise," Mr. Clement said. "They have a corporate and political agenda to have free trade with China, almost at any cost. I fear if they get their way, any complaints we have about human rights would be tucked under the carpet."

The "prime" audience for the initiative is "the roughly half of Canadians who have not made up their minds and are open to weighing the arguments," the background PPF paper said, while noting the challenges of overcoming Canadian apprehension about China. "For Canada to muster persuasive arguments at home in an age where elites do not enjoy a monopoly means facing up squarely to the obstacles to a full flowered relationship while working to mitigate them."

Among the companies funding the China effort are Teck Resources, Bank of Montreal, Manulife, Canada Pension Plan Investment Board, Canadian National, Ernst & Young, TimberWest and Canpotex.

The PPF background paper cited a number of surveys that suggest Canadians are open to free trade.

One of them was an Abacus Research survey conducted in 2016 that showed 46 per cent of Canadians said they could be persuaded to support a closer relationship with China. The poll was paid for by Teck Resources, a Vancouver-based mining company with significant investment from a Chinese sovereign wealth fund that answers to the Communist government. A wholly owned subsidiary of China Investment Corp. owns 17.8 per cent of Teck's Class B shares and has control over 7.5 per cent of shareholder votes. A member of the National People's Congress of China, Quan Chong, sits on the Teck board of directors.

Other polls cited were conducted for the Asia Pacific Foundation, which has published articles in favour of free trade with China.

China's new envoy to Canada Lu Shaye has called on Canada's corporate elite to "actively introduce and explain to the Canadian public" the benefits to the country of signing a free-trade deal.

In speeches to business groups, Mr. Lu has expressed concern about negative Canadian public opinion and media editorials about opening up the Canadian economy to China, especially state-owned enterprises that often act in the interests of Beijing and are known to steal high technology.
Trump push to combat drug trade may mean starting with
China
, not Mexico
Manufacturers and organized crime groups in the world's most populous country are responsible for the majority of fentanyl -- the synthetic opioid that is 50 times more potent than heroin -- that ends up in the U.S. and the majority of precursor chemicals used by Mexican drug cartels to make methamphetamine, according to numerous published U.S. government reports.
"The Mexican cartels are buying large quantities of fentanyl from China," Barbara Carreno, a spokesperson with the U.S. Drug Enforcement Administration (DEA), told FoxNews.com. "It's much easier to produce than waiting around to grow poppies for heroin and it's incredibly profitable.
The DEA estimates that a kilogram of fentanyl, which sells for between $2,500 and $5,000 in China, can be sold to wholesale drug dealers in the U.S. for as much as $1.5 million and that the demand for the drug due to the prescription opioid crisis in places like New England and the Midwest have kept the prices high.
What is fentanyl
Fentanyl is a synthetic opioid, 50 times more potent than heroin, that's responsible for a recent surge in overdose deaths in some parts of the country. It also has legitimate medical uses.

Doctors prescribe fentanyl for cancer patients with tolerance to other narcotics, because of the risk of abuse, overdose and addiction, the Food and Drug Administration imposes tight restrictions on fentanyl; it is classified as a Schedule II controlled substance.

The DEA issued a nationwide alert about fentanyl overdose in March 2015. More than 700 fentanyl-related overdose deaths were reported to the DEA in late 2013 and 2014. Since many coroners and state crime labs don't routinely test for fentanyl, the actual number of overdoses is probably much higher.
Trump, along with numerous other presidential hopefuls, promised while on the stump in states hard-hit by drug addiction to quickly tackle the widespread use of drugs like fentanyl and heroin. While heroin addiction has been a concern for decades, in recent years the number of users of heroin and fentanyl -- and its more potent derivatives like carfentanil -- has skyrocketed as the government clamps down on the abuse of prescription opioids like OxyContin and Percocet.
"We're going to build that wall and we're going to stop that heroin from pouring in and we're going to stop the poison of the youth," Trump said during a September campaign stop in New Hampshire.
The problem with cracking down on fentanyl and its derivatives is that while these substances may be banned in the U.S., they may not be illegal in their country of origin. China, for example, only last year added 116 synthetic drugs to its controlled substances list, but failed to include carfentanil – a drug that is 10,000 times more potent than morphine and has been researched as a chemical weapon by the U.S., U.K., Russia, Israel, China, the Czech Republic and India.
"It can kill you if just a few grains gets absorbed through the skin," Carreno said.
While Mexican cartels obtain these substances in large quantities through the murky backwaters of the Chinese black market, anybody with a credit card and Internet access can call one of the numerous companies in China's freewheeling pharmaceutical industry that manufactures fentanyl and its more potent cousins.
Earlier this year, The Associated Press found at least 12 Chinese businesses that said they would export carfentanil to the United States, Canada, the United Kingdom, France, Germany, Belgium and Australia for as little as $2,750 a kilogram.
Besides synthetic opioids, Chinese companies are also producing massive amounts of the precursor chemicals used to make methamphetamine.
As the methamphetamine industry evolved over the last decade or so from small, homegrown operations in the U.S. to the super-labs run by Mexican cartels, cooks and producers of the drug have begun to rely more and more on China for their ingredients. Mexico now supplies 90 percent of the methamphetamine found in the U.S., and 80 percent of precursor chemicals used in Mexican meth come from China, according to a study by the U.S.-China Economic and Security Review Commission.
"China is the major source for precursor chemicals going to Mexico," David Shirk, a global fellow at the Washington, D.C.-based Woodrow Wilson International Center for Scholars, told FoxNews.com. "The problem is finding who the connection is between organized crime groups in China and organized crime groups in Mexico."
Shirk added that law enforcement and drug war experts generally have a good picture of the major players in Mexican organized crime, but the Chinese underworld is less well mapped and it is more difficult to pin down the major players in the drug trade there.
Despite U.S. efforts to crackdown on both the fentanyl and methamphetamine trades, U.S. government officials acknowledge that much of the onus lies with the Chinese. Chinese state officials take allegations of drug-related corruption seriously, launching investigations when deemed appropriate, but a U.S. State Department report found that drug-related corruption among local and lower-level government officials continues to be a concern.
When he takes office in January, Trump has a few things working in his favor in respect to combatting the drug trade.
One is the continued fracturing of some of Mexico's largest and most powerful drug cartels. The Sinaloa Cartel, for example, was seen for years as an impenetrable drug organization until cracks began to appear in its armor following the re-arrest earlier this year of its leader, Joaquín "El Chapo" Guzmán, and the power struggle that ensued.
"When the violence goes up, business always goes down," Shirk said.
Another factor that will help Trump's war on drugs is U.S. anti-drug officials claim that their work in collusion with their Chinese counterparts is already helping greatly. Six months after China added a slew of synthetic drugs to its controlled substances list, monthly seizures in the U.S. of acetylfentanyl -- a weak variant of fentanyl -- were down 60 percent, the DEA reported.
"We're continuing to work with the Chinese to see if they might control more of these substances," Carreno said. "When they put controls on these substances it makes a huge difference."
Column: Close the postal system loophole that allows opioid shipments into the U.S./Canada
From 2014 to 2015, deaths from synthetic opioids rose by 72 percent, fueling the more than 33,000 opioid overdose deaths. Almost every week we hear of communities being ravaged by new, increasingly potent and exotic synthetic drugs. Reports indicate that China is the number one supplier of synthetic opioids, so addressing the shipment of these drugs into the U.S. is crucial. Yet a loophole in the global postal system allows bad actors overseas to avoid scrutiny and mail their drugs directly to Americans' doorsteps with minimal detection from law enforcement.
As the opioid epidemic ravages communities across America, our lawmakers have a responsibility to do all they can to keep Americans safe. As officials gather for the Senate hearing Thursday to discuss how to shut down this pipeline of drugs into our country, here are three things to watch for.
How has the supply of synthetic opioids impacted the opioid epidemic?
Reports indicate that the opioid epidemic is shifting from prescription drugs like oxycodone to deadlier synthetic opioids. In the past month, Wisconsin, Maine, New Hampshire, and Maryland all reported their first overdose deaths linked to carfentanil, a deadly elephant tranquilizer that's 10,000 times more potent than morphine. And states across the country — from New York to Alabama — are reporting deaths from a potent mixture of synthetic opioids called "gray death." In some states, synthetic drugs are now a factor in the majority of overdose deaths.
How are synthetic opioids being sent into the U.S. through the global postal system?
According to the Drug Enforcement Administration, China is the number one supplier of fentanyl and its precursors to the United States, Mexico, and Canada. These drugs are sometimes shipped to Canada or Mexico and then trafficked into the U.S. In many cases, though, they are sent directly to recipients in the U.S. by individuals exploiting a loophole in the global postal system to avoid scrutiny.
More than a decade ago, legislation passed to improve the security of the mail system required private couriers to provide advance digital information on packages from overseas. For each package mailed to the U.S., private couriers such as FedEx and UPS must attach electronic information that includes the shipper's name and address, the recipient's name and address, and the weight of the package. This may be basic information, but it is vital: Given the large volume of mail shipped to the United States, officials can't manually scan every package.
These data allow law enforcement to effectively target high-risk packages using analytical algorithms. While the private sector has implemented these security protocols, the global postal system has yet to adapt. Nearly 1 million packages continue to arrive in our country every day without critical security data that would help law enforcement identify and stop dangerous packages — including those containing deadly synthetic opioids.
Would closing the postal loophole help officials target illicit packages?
Homeland Security Secretary John Kelly recognized that closing this loophole would help officials shut down this pipeline of illicit drugs. In a Senate hearing last month, he agreed that the Synthetics Trafficking and Overdose Prevention Act, which would close the loophole by requiring electronic data on all packages shipped into the country, could help law enforcement identify and stop packages containing deadly synthetic opioids from entering the United States.
Today, more Americans are dying from drug overdoses than from guns and car crashes combined. There is no single solution to combating the opioid epidemic, but any serious approach must include disrupting the supply chain of these drugs.
In these politically polarizing times, it's increasingly rare for people across all parties to unite on an issue. But with every state reeling from the opioid epidemic, there is no time for partisan bickering. Fortunately, there is bipartisan support for closing the global postal loophole, which is a commonsense step to disrupt the flow of these drugs into the U.S.
Our politicians just need to make it happen.