China'Watch'Canada
Keeping an eye on Communist, Totalitarian China, and its influence both globally, and we as Canadians. I have come to the opinion that we are rarely privy to truth regarding the real goal, the agenda of Red China, and it's implications for Canada [and North America as a whole]. No more can we rely on our media as more and more information on China is actively being swept under the carpet - not for consumption.
Wednesday, April 25, 2018
Pacific Mall is one of world's most notorious sources of counterfeit goods: U.S.
Published Friday, January 12, 2018
MARKHAM, Ont. -- A U.S. government report says a Toronto-area mall is among the most notorious sources of pirated and counterfeit goods in the world.
Pacific Mall, a predominantly Chinese-Canadian shopping centre in Markham, Ont., is one of 18 brick-and-mortar locations and 25 online retailers named by the U.S. Office of the Trade Representative in its annual review of so-called "notorious markets."
The U.S. government says sales of counterfeit goods at Pacific Mall are "sprawling and pervasive" and that vendors "operate largely with impunity (as) requests for assistance from local law enforcement have reportedly gone unanswered."
The new report says some of the counterfeit items available at the mall, including cosmetics, sunglasses and perfumes, can pose a risk to public health and safety.
Pacific Mall is the only Canadian market included on the list, though the report notes that one of the fastest-growing advertising networks that cater to online sellers of counterfeit goods is based in Canada.
The RCMP and York regional police have, over the past two decades, seized counterfeit electronics, DVDs, video games and other goods, said to be worth millions of dollars, from Pacific Mall vendors.
Representatives of Pacific Mall were not immediately available for comment.
Tuesday, April 24, 2018
Mayor Gregor Robertson,

his

Chinese girlfriend and a corruption trial
The Vancouver mayor's relationship with Wanting Qu has largely escaped media scrutiny. Until now.
by Nancy Macdonald
Until recently, Vancouver mayor
Gregor Robertson
has managed to mostly evade media focus on his relationship with Wanting Qu, a Chinese pop star two decades his junior. Robertson's separation from his wife of 30 years was announced just before the
2014 election
. Three months after election day, Robertson and Qu, whom he'd reportedly met when she was Tourism Vancouver's "Ambassador to China" in 2013, issued matching Valentine's messages on Weibo (the Chinese equivalent of Twitter), proclaiming their love.
"Happy Valentines Day sweetheart! I'm so lucky you fill my life with love and happiness. Thanks for making my family happy too!," the mayor, 51, wrote, confirming speculation about the relationship. Qu, 32, responded: "Thank you for loving me Gregor. Ps. U r a lucky man! Happy Valentines to all!"
Apart from the occasional photo-heavy online story featuring selfies and Instagram videos of the mayor and Qu, a minor celebrity in her native China, their romance was largely ignored. That changed with news last week that Qu's mother, Qu Zhang Mingjie, 60, a former official in the northern Heilongjiang province, may face execution for graft. Zhang's two-day trial, on charges of embezzling $69 million, and bribery and abuse of power for her role in a 2009 transfer of state land, ended July 20. She pleaded not guilty and her lawyer argued the case was built on an illegally obtained confession.
A guilty verdict, however, is almost assured; China's criminal conviction rate tops 99 per cent. Prosecutors are seeking the death penalty, which is undertaken when the accused refuses to show remorse or contrition, says Yves Tiberghien, director of the Institute for Asian Studies at UBC.
Zhang, once described by her daughter as a workaholic, raised Qu, her only child, in the northern rustbelt province bordering Russia. When she was 16, Qu was sent to boarding school in Canada, first in Ontario, then British Columbia. Zhang, the former deputy director of the Harbin Municipal Development and Reform Commission, wanted her daughter to learn English, then earn a master's degree in business, before returning to Harbin. But Qu rebelled. After withdrawing from Simon Fraser University in 2005, she used tuition money to fund the purchase of an electric piano, straining an already difficult relationship with her mother. Four years later, she became the first Chinese artist signed to Nettwerk, a Vancouver-based record label.
Qu has said she and her mom had managed to patch things up. On Zhang's birthday last spring, shortly after charges against her were made public, Qu took to Instagram: "No one can replace her in my heart. I must admit I feel regretful for not being in her life for the past 15 years. I also feel somewhat resentful towards her for not being in mine since I was a teen. But over the years, she's forgiven me because she's found pride and joy in my success in life. And I've forgiven her because I've grown to understand fully that no one is perfect."
Zhang was arrested as part of Chinese president Xi Jinping's campaign against corruption; in the last year 300,000 officials have been punished, according to the Communist Party's official graft watchdog, the Central Commission for Discipline Inspection. Xi claims he's taking on both "tigers and flies"—top officials and low-level bureaucrats. Some have managed to skirt prosecution by leaving China. Last year, Beijing announced that 26 of China's 100 most wanted fugitives for economic crimes were in Canada, reportedly the world's second-largest haven for corrupt Chinese officials, after the U.S. But whether they are being targeted primarily for graft or in an effort to shore up support for the Communist Party is far from clear.
Last month, Qu released the single Your Girl, and alluded to her mother in a statement released by Nettwerk: "Though I haven't been able to talk to her, feel her or reach her in any way in the last two years, I know deep down in my heart, there's a place that's warm like the sun and bright like the moon . . . I hope she can hear the song and it gives her love and strength."
In China
, comments Qu made last year calling her mother her childhood hero, have incensed many who have taken her words to mean that the singer is overlooking the fact that her mother may have been involved in corruption, says Tiberghien. "There is a lot of anger over corruption right now in China, where young people are having a much harder time getting access to property," he notes.
Robertson is not commenting on the case, nor is Qu, except on social media. "Woke up sobbing," she wrote recently on Facebook. "She died in my dream. So real… My reality in the last 653 days has been a never-ending nightmare."
Monday, April 23, 2018
A giant indoor farm in China is breeding
6 billion cockroaches

a year.
The Post turns a spotlight on the 'disgusting' insect with apparently remarkable medicinal qualities at the world's largest breeding facility, where the bugs outnumber the planet's human population
PUBLISHED : Thursday, 19 April, 2018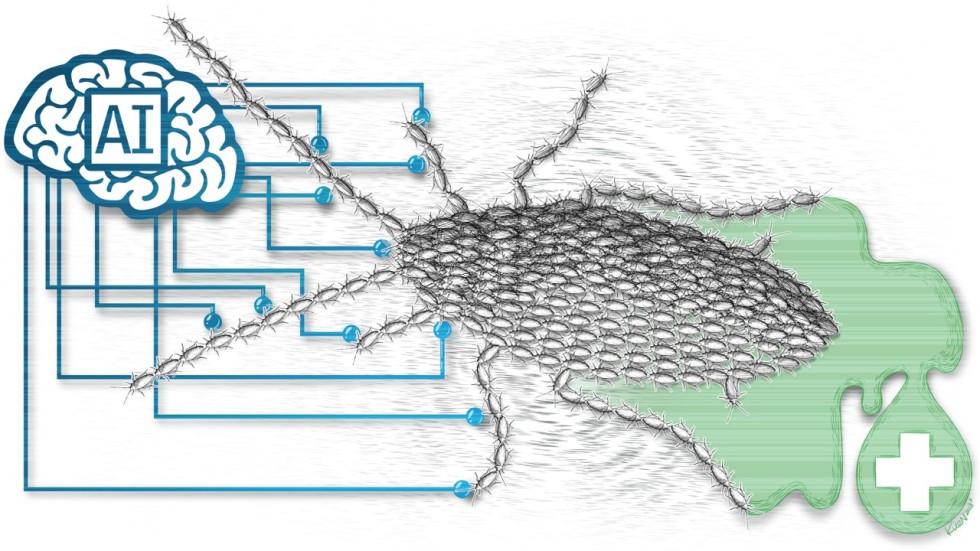 Long, narrowly spaced rows of shelves fill a multi-storey building about the size of two sports fields. The shelves are lined with open containers of food and water.
It is warm, humid and dark all year round, with freedom to roam to find food and reproduce. Fully sealed like a prison, it has strict limitations on access to visitors. From birth to death, inhabitants never see the sun.
The world's largest cockroach farm is breeding 6 billion adult cockroaches a year and using artificial intelligence to manage a colony larger than the world's human population – all for medicinal use.
It is part of the production process for a "healing potion" consumed by millions of patients in China, according to the government.
There are many cockroach breeding facilities in China, for use as an ingredient in medicine or as a source of protein for livestock feed. But no other facility can match the productivity of the farm in the city of Xichang, in southwestern Sichuan province.
Nearly 28,000 full-sized cockroaches per square foot are produced there annually, the Sichuan government said in a report submitted to Beijing early this year.
It is the first time in history so many cockroaches have been confined and bred in one space. The project had achieved so many "scientific and technological breakthroughs" that it deserved a national science award, the provincial government said.
The facility achieved its unrivalled efficiency partly by being controlled by a "smart manufacturing" system powered by artificial intelligence (AI) algorithms, according to the report.
The system constantly collects and analyses more than 80 categories of "big data", including humidity, temperature, food supply and consumption. It monitors changes such as genetic mutations and how these affect the growing rates of individual cockroaches.
AI is transforming China in many sectors, from powerful facial recognition systems capable of identifying 1.3 billion citizens in seconds to nuclear submarines that can help a captain make faster, more accurate decisions in combat.
In the cockroach farm, the AI system learns from past work, self-adjusting to improve cockroach production.
Dr Zhang Wei, former assistant researcher at the College of Mechanical Engineering at Zhejiang University, who was involved in the development of the system, told the South China Morning Post: "There is nothing like it in the world. It has used some unique solutions to address some unique issues."
Zhang confirmed the use of AI technology in the project but declined to give details.
The farm is operated by the Gooddoctor Pharmaceutical Group of Chengdu, Sichuan, which confirmed the validity of the government document but could not answer the Post's queries because the matter involved trade secrets.
According to a 2011 report by the government newspaper Guangming Daily, a visitor must change into a sanitised working suit to avoid bringing in pollutants or pathogens.
"There were very few human beings in the facility," the article stated. On shelves, floors and ceiling, the cockroaches were "everywhere".
"Hold your breath and (you) only hear a rustling sound," it continued. "Whenever flashlights swept, the cockroaches fled. Wherever the beam landed, there was a sound like wind blowing through leaves.
"It was just like standing in the depths of a bamboo forest in late autumn. The cool breeze blows, and the leaves rustle."
Could super-breed terrorise a city?
The sheer number of insects locked in the facility – the largest colony of cockroaches ever to have existed on the planet – conjures some nightmarish scenarios.
Every cockroach is a super-cockroach. Mother Nature has already done its job. There is little room left for us to make improvements
PROFESSOR ZHU CHAODONG, CHINESE ACADEMY OF SCIENCES
Professor Zhu Chaodong, the Institute of Zoology's lead scientist in insect evolution studies at the Chinese Academy of Sciences in Beijing, said it would be a "catastrophe" if billions of cockroaches were suddenly released into the environment – be it through human error or a natural disaster like an earthquake that damaged the building.
To Xichang's near-800,000 inhabitants, one such accident could be "terrifying", Zhu said. The farm is also located close to Xichang's Qingshan airport.
"Multiple lines of defence must be in place and work properly to prevent the disaster of accidental release," Zhu said.
Cockroaches multiply rapidly in a suitable environment, said Zhu. Given Xichang's warm climate and ample rainfall, a dozen of them could infest an entire neighbourhood.
There are also concerns that the farm's intensive reproduction and genetic screening would accelerate the insect's evolution and produce "super-cockroaches", of abnormal size and breeding capability, although Zhu said this was unlikely to happen.
Cockroaches are believed to have been around since the dinosaurs, surviving extreme environmental conditions that brought extinction for other species.
"Every cockroach is a super-cockroach," Zhu said. "Mother Nature has already done its job. There is little room left for us to make improvements."
At the time of the government report, the farm had generated a total of 4.3 billion yuan (US$684 million) in revenue over the years by manufacturing a potion made entirely of cockroaches.
When they reach the desired weight and size, the cockroaches are fed into machines and crushed to make the potion, which had "remarkable effects" on stomach pain and other ailments, said the provincial government.
The potion has a tea-like colour, tastes "slightly sweet" and has "a slightly fishy smell", according to the product's packaging.
More than 40 million patients with respiratory, gastric and other diseases were cured after taking the potion on doctors' prescriptions, according to the official report, which stated that the farm was selling it to more than 4,000 hospitals across the country.
Cockroach has been an ingredient in traditional Chinese medicine for thousands of years. In some rural areas in southern China, infants are still occasionally fed cockroaches mixed with garlic to treat fever caused by an infection or upset stomach.
The Chinese government financed nationwide studies into cockroaches' medical value that, after more than two decades of laboratory investigation and clinical trials, had discovered or confirmed dozens of disease-fighting proteins and biochemical compounds with huge potential value in medicine.
Thousands of pages of Chinese medical journals have detailed findings suggesting the rejuvenating effect of the cockroach potion. It could stimulate regrowth of damaged tissues such as skin and mucosa, the sticky membrane on the surface of internal organs that is difficult to heal and causes chronic pain.
Patients suffering burns or serious stomach inflammations recovered faster with the potion treatment than without, according to numerous studies.
"The potion is not a panacea – it does not have a magic power against all diseases," said a researcher experienced in cockroach-related medicines at the Institute of Materia Medica at the Chinese Academy of Medical Sciences (CAMS) in Beijing.
"But its effect on certain symptoms is well established, and confirmed by molecular science and large-scale hospital applications."
There is a potentially major disadvantage to the potion, according to the CAMS researcher, who requested not to be named. "The source of raw material, to most people, is disgusting," she said. "That is an important reason why the use of the potion is not found in other countries.
"Even in China, most patients might not know the liquid came from cockroaches."
The potion is not for sale over the counter, but the Post has bought it in a drug store in Beijing without being asked for a doctor's prescription.
A pack containing two bottles of 100ml cost a bit more than 50 yuan (US$8).
On the packaging and in the user instructions, only one ingredient was listed: Periplaneta americana, the Latin name of the American cockroach, one of the largest cockroach species.
The internet has played host to lively discussions about the medicine, known as kangfuxin ye, or "potion of recovery".
"I searched for Periplaneta americana when drinking the potion. I saw the picture and spat it all on screen," wrote one user on Baidu Tieba, the large Chinese online community run by search engine company Baidu.
Several patients who had consumed the potion told the Post they were not aware of its content when they drank it.
"This is knowledge I'd rather live without," said a young mother in Beijing who was prescribed it to accelerate recovery after giving birth a year ago.
"I don't know the effect, but I healed eventually," said another patient, who took the potion to cure a back injury.
'Disgusting but powerful'
Han Yijun, a representative of Gooddoctor Pharmaceutical Group in Beijing, has denied the company misleads patients by referring to the giant cockroach by its academic name.
"Our drug has been used in hospitals for many, many years and established an enormous number of fans," she said.
Some patients with chronic stomach illness were taking the potion regularly because it could relieve their pain significantly, she said.
"They all know it's made from cockroaches," Han said. "It is a disgusting insect, but there are hardly any drugs on the shelves with the same effect."